Explore Inauguration Events
The week-long inaugural celebration featured many exciting events and culminated with the University's Homecoming Weekend.
View the Official Event Pictures
A Look Back at Inauguration Week
The Chancellor's Installation
On Oct. 8, 2021, Chancellor Jeremy Haefner was officially installed as the University of Denver's 19th chancellor. A ceremony, delayed by the COVID-19 pandemic, brought together DU leaders, past and present along with national and local dignitaries, as Haefner mapped a new voyage for the future of DU.
Kennedy Mountain Campus Announcement
Chancellor Jeremy Haefner announced the James C. Kennedy Mountain Campus. The new campus will distinguish DU as the only U.S. university that integrates an urban and mountain experience for all its students. Students will now have a unique location from which to further the exploration of their character and nurture their well-being, as well as build bonds with peers. 
Challenges to Democracy with Condoleezza Rice and Madeleine Albright
Former U.S. secretaries of state Condoleezza Rice (BA '74, PhD '81, HDR '96) and Madeleine Albright (HDR '16) joined Chancellor Haefner for a discussion focused on the two Secretaries' deep ties to DU and one another, as well as the importance of civil discourse to the health of higher education, and democracy itself.
40 Years of Change in Denver: Denver Mayors in Conversation
Chancellor Jeremy Haefner brought together three of the city of Denver's past and present mayors for an important conversation on servant leadership, civil discourse and character. Former Mayor Wellington Webb, former Mayor and now U.S. Sen. John Hickenlooper and current Mayor Michael Hancock shared their experiences on the job and their passion for Denver. 
The Constitution of Knowledge — A Defense of Truth
Provost Mary Clark facilitated a conversation between Chancellor Haefner and Brookings Scholar Jonathan Rauch, whose book, "The Constitution of Knowledge — A Defense of Truth," dives deep into the issues of civil discourse, knowledge and the need to defend "truth-friendliness." 
Burwell Center Grand Opening
The new Burwell Center provides a warm and welcoming space for student career development, alumni engagement, student employment and employer connections. 
Livingston Lecture with Esteban Gómez
Visual anthropologist Esteban Gómez took audiences on a virtual tour of Denver, as he shared a moving look at how neoliberal policies, liked transit-oriented development (TOD) and school choice have impacted the city's health and education. He was joined by Senior Associate Dean Andrea Stanton for an open question and answer from the audience.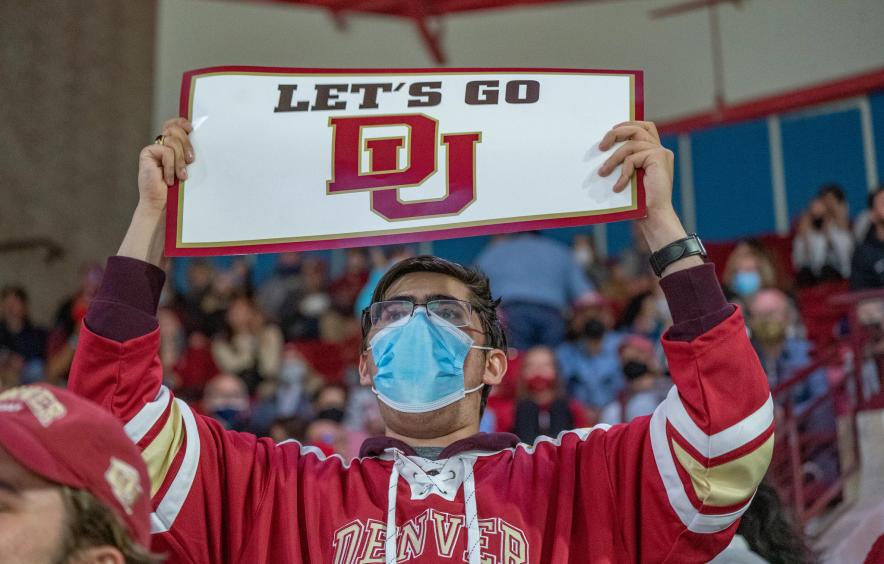 Homecoming 2021
The University of Denver welcomed back to campus the Denver community to help celebrate homecoming. The magnitude of this year's events was unrivaled as DU celebrated the grand opening of new buildings, the inauguration of Chancellor Haefner and the return of many campus traditions.